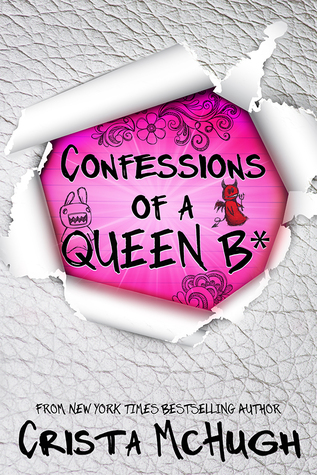 Alexis Wyndham is the other type of Queen B—the Queen Bitch.

After years of being the subject of ridicule, she revels in her ability to make the in-crowd cower via the exposés on her blog, The Eastline Spy. Now that she's carved out her place in the high school hierarchy, she uses her position to help the unpopular kids walking the hallways.

Saving a freshman from bullies? Check.
Swapping insults with the head cheerleader? Check.
Falling for the star quarterback? So not a part of her plan.

But when Brett offers to help her solve the mystery of who's posting X-rated videos from the girls' locker room, she'll have to swallow her pride and learn to see past the high school stereotypes she's never questioned—until now.
Confessions of a Queen B* by Crista McHugh
Published July 28th 2015 by Crista McHugh
Genre: Contemporary
Rating: 1 Star
Reviewed on December 1, 2015
This review can also be founds on

Goodreads

.
Confessions of a Queen B* is not worthy of praise. It shouldn't even be worthy of this review, but hell, I'm not going to sugarcoat.

It wasn't sassy. It wasn't smart. It wasn't a thriller. It wasn't an awesome bitch. It wasn't fun.

It was ridiculous, shallow, degrading, cliché, and a waste of my time.

From the premise, I expected a mystery that would keep me on the edge of my seat, but I'm 100% certain I wasn't even reading the same story. This is a poor imitation of thrilling and mysterious. It's downright a lesser version of anything or as one of my reviewer friends once put it "the ugly stepsister." Mean Girls should feel insulted and that's saying something because I don't even like that movie.

If you want sassy, bitchy, bossy, and intelligent, look up Veronica Mars. Now there goes one hell of a girl who knows how to intimidate and rock your mind.
My Rating