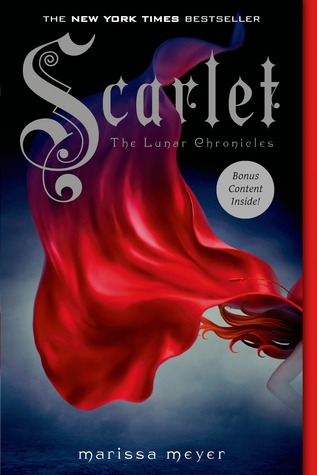 Cinder is back and trying to break out of prison—even though she'll be the Commonwealth's most wanted fugitive if she does—in this second installment from Marissa Meyer.

Halfway around the world, Scarlet Benoit's grandmother is missing. It turns out there are many things Scarlet doesn't know about her grandmother, or the grave danger she has lived in her whole life. When Scarlet encounters Wolf, a street fighter who may have information as to her grandmother's whereabouts, she is loath to trust this stranger, but is inexplicably drawn to him, and he to her. As Scarlet and Wolf unravel one mystery, they encounter another when they meet Cinder. Now, all of them must stay one step ahead of the vicious Lunar Queen Levana.
Scarlet (The Lunar Chronicles #2) by Marissa Meyer
Published February 4th 2014 by Square Fish
Genre: Fantasy, Science Fiction
Rating: 3 Stars
Reviewed on November 29, 2015
This review can also be founds on

Goodreads

.
3 Stars - Just because I was generous with
Cinder
before.
I can't lie. There's something quite appealing about
The Lunar Chronicles
and I finally understand why some readers would continue with a series when they didn't even enjoy the first installment and had no high hopes for the rest of the books. Take the
Throne of Glass
series, for example. Some of my friends and I were absolutely baffled by the hype surrounding the first book (take note: I said the first book, not the entire series) and I personally hated it to its core, from the poor execution of the plot/mystery to the shallow and inconsistent characters. After weeks of indecisiveness, I put my foot down and dropped the series.
With
The Lunar Chronicles
, I'm surprised I didn't do the same after suffering through
Cinder
, considering how underwhelmed and disappointed I was (and the fact that I couldn't stand Cinder or Kai due to their boring narrations and lack of personalities). And now here I am picking up where I left off with
Scarlet
, just because it had multiple povs which starred a new heroine.
Ehh, what a long story. Let's get to my actual short review.
After digging my brains for the last couple of hours, I don't think I have a single thing to complain about
Scarlet
.
Scarlet
neither one-up on
Cinder
nor did it suffer from second-book-syndrome. Its priority was to move the main storyline along and it did just that. However, there wasn't much to dread or be excited about because the "plot twists" and "cliff hangers" didn't do it for me. It left me with this feeling of "Oh, that's it?" We have the character Scarlet searching for her grandmother, who was believed to be involved in hiding and protecting the Lunar princess. Little did Scarlet know that the escaped Lunar fugitive on television was actually the princess. They eventually met and
Cress
will continue on from there.
Lastly, I will say that what probably draws me to
The Lunar Chronicles
is the combination of science fiction and fairytale retelling. I'm not a science fiction fan and I love retellings, so let's hope this series keep me engaged until the end. I already own
Cress
so I have to read it.
My Rating