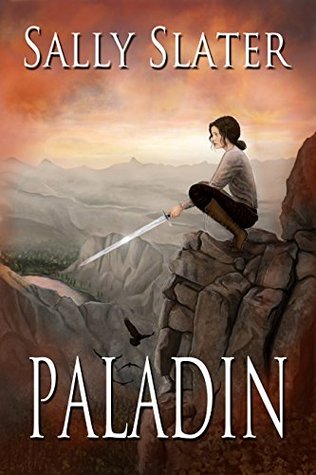 Brash, cocky, and unbeatable with a sword (well, almost), Sam of Haywood is the most promising Paladin trainee in the kingdom of Thule… and knows it. The only problem is that Sam is really Lady Samantha, daughter of the seventeenth Duke of Haywood, and if her father has his way, she'll be marrying a Paladin, not becoming one.

But Sam has never held much interest in playing damsel-in-distress, and so she rescues herself from a lifetime of boredom and matrimonial drudgery. Disguised as a boy, Sam leaves home behind to fight demons-—the most dangerous monsters in Thule—-alongside the kingdom's elite warriors. Pity that Tristan Lyons, the Paladin assigned to train her, is none other than the hero of her childhood. He hasn't recognized her–yet–but if he does, he'll take away her sword and send her packing.

Sam is not the only trainee hiding secrets: Braeden is a half-demon with a dark past that might be unforgivable. Whether he can be trusted is anyone's guess, including his.

As demons wreak havoc across the land, rebellion stirs in the West, led by a rival faction of warriors.
Paladin by Sally Slater
Published May 14th 2015 by Perfect Analogy Publishing
Genre: Fantasy
Rating: None Available
Reviewed on November 29, 2015
This review can also be founds on

Goodreads

.
Unrated Review Because the Stars Don't Matter

Judging from its cover and Goodreads summary, Paladin was not what I pictured, which is quite frustrating to say when these words border right between positivity and negativity. My judgment can tip over to any side, so here's my mixed opinion of the good and bad:

The whole girl-disguises-as-boy-to-fight has been done countless times in the fantasy genre and this book won't stand out.

The writing was too simplistic and dull for my taste, but at least time and effort wasn't wasted on pointless descriptions.

The action scenes don't play out to the point of mind-numbing exhaustion.

The plot is driven by the main characters traveling from place to place. Although I love adventures, it was a chore sometimes to care where they were at and where they were going next.

Last but not least, the characters' interactions were engaging, but at times, it got too cheesy for me and there were a few parts I would deemed as unnecessary filler scenes. Especially when it came to the developing romance with its cliché dialogs.



ARC provided through Netgalley in exchange for an honest review.
My Rating
None Available.