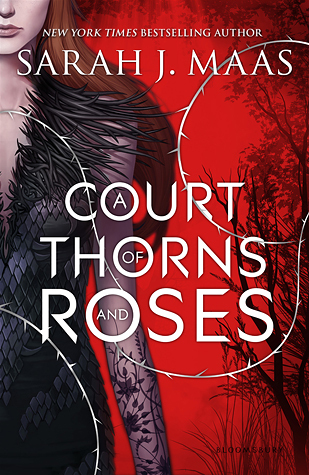 When nineteen-year-old huntress Feyre kills a wolf in the woods, a beast-like creature arrives to demand retribution for it. Dragged to a treacherous magical land she only knows about from legends, Feyre discovers that her captor is not an animal, but Tamlin—one of the lethal, immortal faeries who once ruled their world.

As she dwells on his estate, her feelings for Tamlin transform from icy hostility into a fiery passion that burns through every lie and warning she's been told about the beautiful, dangerous world of the Fae. But an ancient, wicked shadow grows over the faerie lands, and Feyre must find a way to stop it... or doom Tamlin—and his world—forever.
A Court of Thorns and Roses by Sarah J. Maas
Published May 5th 2015 by Bloomsbury Children's
Genre: Fantasy, Fairytale Retelling
Rating: 2 Stars
Reviewed on September 6, 2015
This review can also be founds on

Goodreads
My Review
Initial Reaction:
Reality:
Initially, I rated
A Court of Thorns of and Roses
3 stars and wrote a long review for it, but after realizing I felt more disappointed and ragey than anything else, I decided why fucking bother.
Sarah J. Maas, congratulations, you did it again.
Pointless. Pointless. Pointless.
Boring love interest. Boring love interest. Boring love interest.
Stupid romance. Stupid romance. Stupid romance.
Maybe repeating myself three times will make you stop . . . or make me forget how rapey Tamlin is.
And guess what?
A Court of Thorns and Roses
made it to my u-made-society-hang-itself shelf.
Just because of 1) Tamlin is an insult to Disney's version of Beast, one of my all-time-favorite characters; 2) when Tamlin forced himself on Feyre and she reacted by getting turned on *gags*; and 3) how Tamlin had the nerves to held himself "unaccountable" for his actions. Inner Beast or not, fuck you. Nobody asked for it.
Seriously, all this lusty romance and Feyre's annoying narration was not worth my time. I DONT' GIVE A FUCK ABOUT HOW FAST AND HARD SHE WANTS IT!!! If I wanted to read erotica, I would have picked one up. Thanks for passing the time though.
My Rating