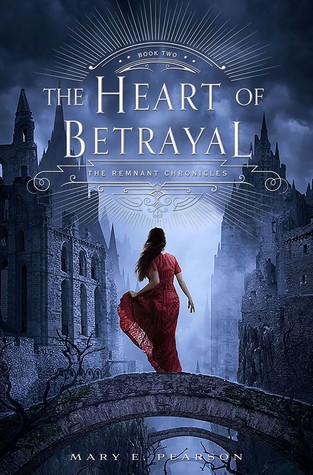 Intrigue abounds in this hotly anticipated sequel to The Kiss of Deception!

Held captive in the barbarian kingdom of Venda, Lia and Rafe have little chance of escape. Desperate to save her life, Lia's erstwhile assassin, Kaden, has told the Vendan Komizar that she has the gift, and the Komizar's interest in Lia is greater than anyone could have foreseen.

Meanwhile, nothing is straightforward: there's Rafe, who lied to Lia, but has sacrificed his freedom to protect her; Kaden, who meant to assassinate her but has now saved her life; and the Vendans, whom Lia always believed to be barbarians. Now that she lives amongst them, however, she realizes that may be far from the truth. Wrestling with her upbringing, her gift, and her sense of self, Lia must make powerful choices that will affect her country... and her own destiny.
The Heart of Betrayal by Mary E. Pearson
Published July 7th 2015 by Henry Holt and Co.
Genre: Fantasy, Fairytale Retelling
Rating: 4 Stars
Reviewed on August 2, 2015
This review can also be founds on

Goodreads

.
My Review
Don't read this review. Don't read it. Don't. Are you still reading it? Ohh, I see you, you little rebel.
Do you want to know who else is a rebel?
A runaway princess named Lia, who refused to become the biddable wife of a political marriage. In
The Kiss of Deception
, I resented and admired her at the same time.
The Heart of Betrayal
is no different, although I gained a tiny bit more respect— and wait for it— hatred for her. Talk about contradictions.
"Perhaps he just wants me well dressed when I'm hanging from the end of a rope."
"The Komizar doesn't hang people. He beheads them."
"Oh, well. That's a relief. Thank you for enlightening me."
Sarcasm, I likey a lot.
Lia's character development, on the other hand . . . ehhh, not so much. She just became reckless and impulsive, and while some of her reactions and actions were understandable, I couldn't stand how everything was convenient and easy for her. It was like she never faced any real challenges, except for the obvious predicament— getting the hell out of Venda— and her undeveloped gift.
In all honesty, she was. Too. Damn. Special. To. Literally. Everyone. And I blame the love triangle for taking most of the credit.
The romance got more melodramatic! As entertaining as the triangle was, it was beyond annoying when the focus constantly changed between the two love interests I had lost interest in. I honestly couldn't see why Kaden was so devoted to her. Rafe, I understand to an extent, but Kaden? Suddenly, he will do anything for her and he loves her.
Ughhh. Someone, give me a broom to sweep away the love mess.
Nevertheless, I stayed true to rooting for Lia until the end and that's the most I can ask for in a heroine.
Forget #TeamKaden. Forget #TeamRafe.
Go #TeamLia!
I don't know what else to say about
The Heart of Betrayal
and I wished I could elaborate further. It took me way too long to get into it and I didn't get excited until Chapter Seventeen. The book was definitely good, but I didn't love it. I might even go as far as saying I adore the cover more than the content of the book.
This just hit me . . .
Is past history meant to parallel with the present?
Kaden = Morrighan
(view spoiler)
Lia = Venda
(view spoiler)
Rafe = Gaudrel
I don't know. Just a theory. It's obvious these three people are fated.
My Rating