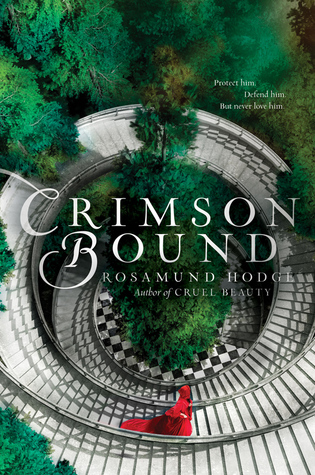 When Rachelle was fifteen, she was good—apprenticed to her aunt and in training to protect her village from dark magic. But she was also reckless— straying from the forest path in search of a way to free her world from the threat of eternal darkness. After an illicit meeting goes dreadfully wrong, Rachelle is forced to make a terrible choice that binds her to the very evil she had hoped to defeat.

Three years later, Rachelle has given her life to serving the realm, fighting deadly creatures in an effort to atone. When the king orders her to guard his son Armand—the man she hates most—Rachelle forces Armand to help her find the legendary sword that might save their world. As the two become unexpected allies, they uncover far-reaching conspiracies, hidden magic, and a love that may be their undoing. In a palace built on unbelievable wealth and dangerous secrets, can Rachelle discover the truth and stop the fall of endless night?

Inspired by the classic fairy tale Little Red Riding Hood, Crimson Bound is an exhilarating tale of darkness, love, and redemption.
Crimson Bound by Rosamund Hodge
Published May 5th 2015 by Balzer + Bray
Genre: Fantasy, Fairytale Retelling
Rating: 3 Stars
Reviewed on August 5, 2015
This review can also be founds on

Goodreads
My Review
*Spoiler-free, I swear it*
"You're very comforting."

"No," said Rachelle, "just honest. If I were trying to comfort you, I would promise not to hurt you."
If these two simple lines didn't clue you in on how easily broken or untruthful promises can end up being, then I shall rephrase— promises are easy to make but hard to keep.
I can say the same about books.
Crimson Bound
had promise from the very beginning. I was immediately sucked into Rachelle's sinister world and wanted to indulge in the bloody tragedy.
Then
Crimson Bound
broke that promise.
Expectations over the Past Year:
"How badly do you want this book?"
"Why this book?"
It's written by Rosamund Hodge and the storyline sounds promising! Rachelle and Armand will travel in the forest and kill demons left and right! Oh yeah!!! Best life-and-death adventure ever!
Reality:
Rachelle is stuck in one place— a royal estate— for most of the book. There is endless talk about the how much she hates parties and snotty rich people.
Oh, why listen to me? Let's ask the main character herself.
"Rachelle, what is this book about?"
Yep, that sums it up.
I didn't ask for this. The Royalty. The politics. The world-building. The info-dump in the beginning that is later repeated in more dialogues and monologues throughout the rest of the book. Seriously, I can't stress enough how many times I thought, "Didn't I read about this already?"
At the very least, the book wasn't boring for me, unless it came to the actions scenes, which I found quite dull to read.
The romance didn't shock me or gross me out because this is Rosamund Hodge and I knew what to expect from the heroine and love interests. Even though I wasn't a fan of the unfolding love triangle, I didn't read
Crimson Bound
for the romance, so I couldn't find it in my cold heart to care. Minus 0 Stars!
I like this retelling, but I expected . . . more.
I think my main problem with
Crimson Bound
is I hadn't care much about what would happened. I wasn't attached to any of the characters or even grew to casually like them. I just wanted
something
to happen to them. In the end, they didn't entertain or tug at my heart.
My Rating