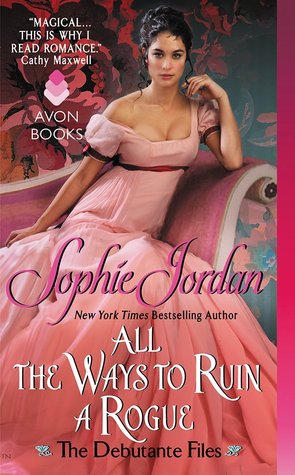 There was once a lady who loathed a lord...

Lady Aurelia hasn't always hated Max, Viscount Camden, her brother's best friend. In fact, as a besotted girl, she thrived under his kind attention – sure that he was the most noble and handsome man in the land. Until her young heart discovered what manner of rogue he really was. Now, though she enjoys nothing more than getting on his last nerve, she can't deny Max drives her to distraction—even if she tries to pretend otherwise.

...and a lord who was confounded by a lady.

Max cannot recall a time when Aurelia did not vex him. If she was not his friend's sister, he would stay far away from the infuriating vixen. Unfortunately, they are always thrown together. At parties and family gatherings…she is always there. Infuriating him, tossing punch in his face, driving him mad...until one night, she goes too far and he retaliates in the only way he can: with a kiss that changes everything.
All the Ways to Ruin a Rogue (The Debunate Files #2) by Sophie Jordan
Published July 28th 2015 by Avon
Genre: Historical Romance
Rating: 2 Stars
Reviewed on August 6, 2015
This review can also be founds on

Goodreads

.
It's been far too long, Historical Romance. Far too long. I finished All the Ways to Ruin a Rogue in several hours.

I could not put this book down . . . at first. Then I wanted to tear it apart, page for page. That's the effect historical romance books have on me.

Even though I was totally engrossed in the beginning of All the Ways to Ruin a Rogue, the main characters started to take a toll on my nerves and they took all the fun out of a promising friends-to-enemies-to-lovers storyline. Their typecast personalities were already something I encountered countless times in previous reads and they didn't possess any qualities to make them different on stand out as individuals. In my opinion, they were only shadows of awesome heroines and heroes from other books. Never mind, I take it back. They weren't even shadows. They were counterfeits.

In view of Auriela's satirical caricatures— which I wish there was more focus on but instead this wonderful idea was merely glossed over— and not taking into account her never-ending tantrums, Aureila will never measure up to tough heroines, such as Penelope from Romancing Mr. Bridgerton and Maggie from The Harlot Countess.

As for Max, he never once tried to redeem himself in this book and he is as shitty as Simon from The Harlot Countess and Nick from The Courtesan Duchess. On the bright side (if there is one), Max isn't the worst hero I ever read about.

Onto the chemistry between Max and Auriela! I was so hoping their hostility would build up to something beautifully romantic— or at least entertaining— but that never happened. It was too lusty. Good smut, but too lusty for me.

The "wit" and "bantering" got repetitive, old, tired, and was just plain distasteful. Their treatment of each other throughout the entire book wasn't something I overlooked and I didn't and couldn't root for the couple.

If my rating was based on my enjoyment, All the Ways to Ruin a Rogue would be 3 stars at the most. However, only 2 stars is capable of sedating my disappointment.
My Rating