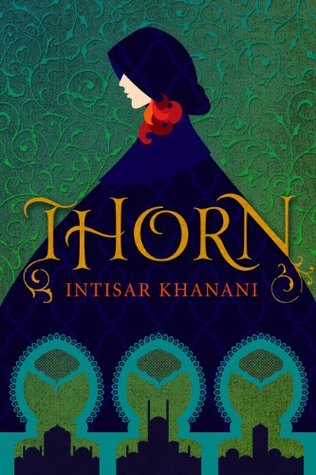 For Princess Alyrra, choice is a luxury she's never had ... until she's betrayed.

Princess Alyrra has never enjoyed the security or power of her rank. Between her family's cruelty and the court's contempt, she has spent her life in the shadows. Forced to marry a powerful foreign prince, Alyrra embarks on a journey to meet her betrothed with little hope for a better future.

But powerful men have powerful enemies--and now, so does Alyrra. Betrayed during a magical attack, her identity is switched with another woman's, giving Alyrra the first choice she's ever had: to start a new life for herself or fight for a prince she's never met. But Alyrra soon finds that Prince Kestrin is not at all what she expected. While walking away will cost Kestrin his life, returning to the court may cost Alyrra her own. As Alyrra is coming to realize, sometime the hardest choice means learning to trust herself.
Thorn by Intisar Khanani
Published May 30th 2012 by Intisar Khanani
Genre: Fantasy, Fairytale Retelling
Rating: 4 Stars
Reviewed on June 5, 2015
This review can also be founds on

Goodreads

.
My Review
I wish safety for Krestin, as little as I understand him— safety for him and from him.
I just— this one line— hit mehhh in the feels— I can't.
Okay, okay, in all seriousness, let's get started.
If you read and liked
The Goose Girl
by Shannon Hale like I did, don't be afraid to pick up
Thorn
by Intisar Khanani. The storytelling is different, as I hoped it would it be. For one, there are Fey and sorcerers in
Thorn
and I don't recall any in
The Goose Girl
(which I read years ago, so I may be mistaken).
Thorn
is confusing and complicated to follow and you may get tired of it because truths are kept in the dark and are revealed
very late
, but the story won me over in spite of my complaints. Nothing's perfect. Therefore, I will leave the flaws up to discussions with other reviewers and won't address them in my own review.
You witness today that Princess Alyrra aka Thorn has become one of my favorite princess heroines. She's strong, but she's not concrete. She's submissive, but she's not a doormat. She's clever, but answers don't come effortlessly to her front door. She's selfish, but she's not self-interested. She's suffering, but she's not wallowing in her pity party. She's ashamed of herself, belittle her self-worth, and doubts her power, influence, and strength to a point of exhaustion.
She has insecurities. Insecurities that aren't all about how fat she is or how unattractive she is. Thank god! YA authors, learn something from Intisar.
Even though at times I found Thorn's actions and beliefs unreal and far-fetched, I forgive her because I like her too much to battle with my common sense. Describing her is a challenge, so let me just say I was genuinely surprised by her character. She's not a saint, and yet she's pretty damn close to one and she makes me feel like a devil for wishing the worst fate upon the bad guys. It's not her forgiving and merciful attitude I admire about her, but it is her acceptance and eagerness to learn about a new kingdom and its language. She doesn't coward away (HA! This sounds like a lie!) and her progress is shown throughout the book in a improvement of her understanding and responses to more complex conversations.
Aside from the characters and the morals, there is one other thing I really like and that is— the dialogues.
There are
the brilliant dialogues.
Exhibit A:
"Your father offered me passage home if I informed him of certain matters concerning the princess. When I refused, he sent me to my new duties, assuring me that should I wish to betray her, there will always be a willing ear. As for Your Highness, you care for me only for the knowledge you believe I have. Each time we speak, it is only that you may try to pull some fact for me you are convinced I know. You would not help me to better my situation any more than my father, for you need me to feel that I need you, that I will be in your debt for your help. Is this not the game you play, or have I— have I mistaken you?"
Exhibit B:
"How are the stables treating you? Still shoveling dung?"
"An honest living often involves dealing with others' filth."
Exhibit C:
If you are not tempted by power, wealth, rank or an offer of flawed protection, or by a personal concern for justice to be carried out for yourself," he looks up and catches my gaze, "then what else is there?"
The humorous dialogues.
Exhibit D:
I wouldn't have thought a bump on your head would improve you so. The next time you walk around looking like a rainy day, I'm taking you to find another youth to save." Said the Horse after Arylla injured her head due to rescuing a boy.
Exhibit E:
"And Laurel," Violet responds, "sat up half the night listening to you stomp circles in your room not because she was worried about you but because she prefers to sleep sitting up with her eye open."
One of the best sarcasms I've heard so far.
And at times,
the poignant/heartrending dialogues.
Exhibit F:
"Thorn, let me tell you about dangerous. Dangerous is cutting your finger on a rusty nail and getting lockjaw. Dangerous is walking behind a skittish a horse and getting kicked against the wall. Dangerous is walking anywhere in this city at night. Dangerous is
not
helping someone stay safe."
Exhibit G:
"I cannot protect you so far from court," he says. "Will you not return?"
His words release me from the spell of his touch. I pull my hand free. "There is nothing for me here," I say, my voice shaking."
A character can say so much more than the words they speak, making their implication run deep and far.
There aren't endless amount of redundant and pointless dialogues/monologues jumping out of the page to beg for my attention saying, "Look at me! I'm quirky with my sarcastic remarks." Or "I'm so philosophical and smart. Love me!" Do you get where I'm coming from? Because I am honestly tired of books overdoing the sarcasm and wittiness of the characters and having these characters act and talk like childish idiots one minute then spout philosophies the next. Boo!
Therefore, Intisar did an amazing job with giving life and meaning to her characters and her retelling. Well done. Well done, indeed.
By the way, I need someone to fangirl with me. The last paragraph that ended the book was so friggin adorable. Way to make me desperate for more Kestrin and Thorn. I NEED TO SEE THEM FALL IN LOVE <3 Fulfill my needs.
ARC via Netgalley
My Rating