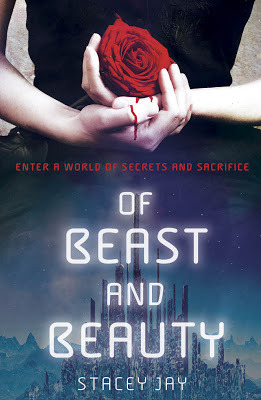 In the beginning was the darkness, and in the darkness was a girl, and in the girl was a secret...

In the domed city of Yuan, the blind Princess Isra, a Smooth Skin, is raised to be a human sacrifice whose death will ensure her city's vitality. In the desert outside Yuan, Gem, a mutant beast, fights to save his people, the Monstrous, from starvation. Neither dreams that together, they could return balance to both their worlds.

Isra wants to help the city's Banished people, second-class citizens despised for possessing Monstrous traits. But after she enlists the aid of her prisoner, Gem, who has been captured while trying to steal Yuan's enchanted roses, she begins to care for him, and to question everything she has been brought up to believe.

As secrets are revealed and Isra's sight, which vanished during her childhood, returned, Isra will have to choose between duty to her people and the beast she has come to love.
Of Beast and Beauty by Stacey Jay
Published July 23rd 2013 by Delacorte Press
Genre: Fantasy, Fairytale Retelling
Rating: 3 Stars
Reviewed on June 54 2015
This review can also be founds on

Goodreads

.
Beauty is wherever you find it, and Beast is there when you need to defend it.
A Blind Beauty.

A Humane Beast.
Our beast Gem isn't cursed, selfish, or ugly.
Our beauty Isra isn't loved, pure, or untouchable.
As a matter of fact, Isra and Gem practically have death sentences hanging over their heads.
My life grows shorter than the rose on the royal roses.
These characters' journey is heartwarming and raw with emotions of anger, hatred, doubt, pity, fear and . . . lust.
I fucking love it.
However, as much as I love that their love story underlines the importance of perception ("beauty is in the eye of the beholder," you get what I mean?) and what is beautiful and ugly, what is good and evil, what is truth and lie; the morals aren't enough to win me over.
At first,
Of Beast and Beauty
fulfilled my love for fairytale retellings, but as soon I ventured into the second half, it became a book I wanted to end after I realized how painfully obvious the author is. The story is quite predictable from the circumstances of the King's death to Isra's mutation to the Puppet Master. Also, I'm disappointed with the way secrets and truths are unfolded. Not only is it disorderly, but it's rather lazy.
For example: When Isra dreams about Queen Ana, it's more tell than show. Out of nowhere, Isra learns where Ana's hidden diary is through a dream she once had. Then time passes. The audience is
told
about Isra's dreams for the previous months. We quickly learned a bit more about the past. Then without further ado, Ana easily led Isra to the hidden convent and she learns the
not shocking truth
truth about the sacrifices.
It's just— unsatisfying and unchallenging— for both the main character and the readers. Supposedly, Ana had tried to communicate with the queens for hundreds of years and failed miserably until Isra and it just boggles me that there's nothing inspiring about the "rich" history and Ana's convenient role in all of this.
Another example: As much as I agree with the story's realistic approach on lust, I find the romance/love to be rushed. Once again, Stacey jumps the time line and
tells
of the interactions between Isra and Gem, instead of building the relationship to that point.
To be truthfully honest, I ended up skimming the last few chapters. If the second half of book had been challenging and complex instead of having Isra sit around for her fate to come to her, I would have liked the story better. By this time, I didn't even care about the romance anymore and I wanted Isra to die. Stacey Jay should have delivered an unhappy ending for both Isra and Gem after they "saved" the planet. It's like she couldn't go through with it the last minute. What's more? She throws all these hardships the characters' way to make the readers pity them and she kills off characters so she wouldn't have to deal with them because they have no further use. Just like
(view spoiler)
Well . . . unless you consider
(view spoiler)
Whatever. This is
my perception
of the book. Other readers may think differently— that the deaths occurred in order to keep the characters hopeless, that the hardships are supposed to be overcome so the characters can get stronger, that love conquers all, blah di blah. Anyways, I would definitely recommend
Of Beast and Beauty
.
I was certain the book would be 4 stars, but 3 stars will have to do.
My Rating