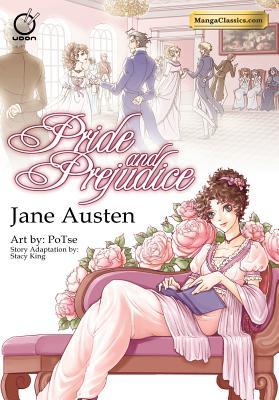 Beloved by millions the world over, Pride & Prejudice is delightfully transformed in this bold, new manga adaptation. All of the joy, heartache, and romance of Jane Austen's original, perfectly illuminated by the sumptuous art of manga-ka Po Tse, and faithfully adapted by Stacy E. King.
Manga Classics: Pride and Prejudice by Stacy King
Published August 19th 2014 by Udon Entertainmen
Genre: Historical Romance
Rating: 2 Stars
Reviewed on June 24, 2015
This review can also be founds on

Goodreads

.
My Review
Take your pick. You either like the manga or you didn't.

I'm on the dislike side.

I believe this is a parody of Pride and Prejudice more than it is an adaption. There are a few parts which are funny and others which are annoying. I found myself wincing more times than I can count because of the exaggeration and inaccuracies.

Did I enjoy the manga at the very least? Can't say that I did.

1) Elizabeth has no class. The manga portrays a petty, juvenile, and melodramatic heroine.

2) I don't find the drawings attractive. They were pretty at first sight. Then after a while, the drawing lost its appeal.

3) Mrs. Collins reminds me too much of my mother. I can't. I just can't.



ARC via Netgalley
My Rating