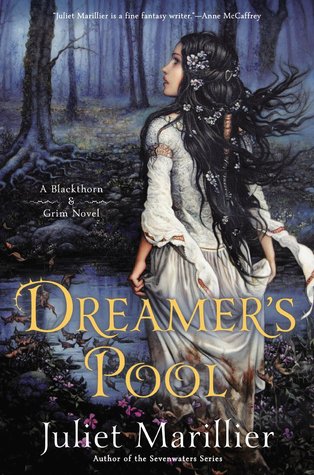 In exchange for help escaping her long and wrongful imprisonment, embittered magical healer Blackthorn has vowed to set aside her bid for vengeance against the man who destroyed all that she once held dear. Followed by a former prison mate, a silent hulk of a man named Grim, she travels north to Dalriada. There she'll live on the fringe of a mysterious forest, duty bound for seven years to assist anyone who asks for her help.

Oran, crown prince of Dalriada, has waited anxiously for the arrival of his future bride, Lady Flidais. He knows her only from a portrait and sweetly poetic correspondence that have convinced him Flidais is his destined true love. But Oran discovers letters can lie. For although his intended exactly resembles her portrait, her brutality upon arrival proves she is nothing like the sensitive woman of the letters.

With the strategic marriage imminent, Oran sees no way out of his dilemma. Word has spread that Blackthorn possesses a remarkable gift for solving knotty problems, so the prince asks her for help. To save Oran from his treacherous nuptials, Blackthorn and Grim will need all their resources: courage, ingenuity, leaps of deduction, and more than a little magic.
Dreamer's Pool (Blackthorn & Grim #1) by Juliet Marillier
Published November 4th 2014 by Roc Hardcover
Genre: Fantasy
Rating: 2 Stars
Reviewed on May 19, 2015
This review can also be founds on

Goodreads

.
Juliet Marillier,
How could you?
I hate to say it. I hate to, but this is the first Juliet Marillier book which didn't work like magic for me. I love that her books are long and I love reading them and
rereading
them word for word, but Dreamer Book's length was not worth my patience. I can't believe how boring it was.
To make matters worse, the story was beyond predictable and when I say predictable, I mean I solved the entire mystery (mysteries?) within two literal seconds of the unfolding events of the drowning incident and the "scratches from above" kidnap incident.
So imagine my pain as I have to read on and on about stuff I don't care about only to have Juliet follow her typical formula where "the answers" are given in a tale and I'm just like "I read all of this for THIS."
The story didn't keep me engaged and fascinated and hopefully the next book in the series will prove to be more enjoyable and engrossing. I do love Grim and Blackthorn and I am anticipating the further growth of their friendship and the development of their characters.
My Rating