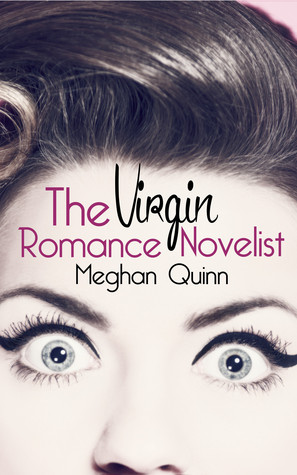 The Virgin Romance Novelist by Meghan Quinn
Published on April 2nd 2015
Rating: 4 Stars
Reviewed on April 1, 2015



Book Blurb
Her bosom heaved at an alarming rate as his rough hand found its way down to her soft, yet wiry briar patch...

Can you say briar patch in a romance novel? What about meat sword? That's what it is…a meat sword, right, all meaty and sword like, slaying through the inner dungeons of a woman's dark desires. What about breasts? Do bosoms really heave?

God, I have no idea what happens when private parts touch.

I'm a virgin trying to write a romance novel and can't seem to write past a sex scene thanks to my lack of experience.

My two best friends encourage me to drop the pen for a while and gain some real life practice through multiple dating facets such as blind dates, online profiles, and random hookups.

But losing my virginity is proving to be tougher than expected…
Review
4 Stars!
Sex gets awkward.
Sex can be funny.
Sex isn't always serious.
Self-pleasure is okay.
People are different.
A body isn't perfect.
Nothing is what it seems.
And that is only some of what
A Virgin Romance Novelist
brings you. I swear, it's sex education with a comedic and romantic twist.
A virgin writing a contemporary romance novel?
A woman slowly discovering reality can be far from fiction?
A book lover learning to live outside of her books and find her own love story?
Take note that Rosie goes out with plenty of men, but her one true love interest took me pleasantly by surprise.
To an extent, Rosie is as realistic as it gets. Most of her actions, reactions, and thoughts are honest and heartfelt. They're not a mushy ball of exaggerated crap. She isn't an expert on sex within an unbelievable amount of time. She doesn't become a Sex God and miraculously knows how to pleasure someone or herself all by her first sexual encounter. She envies the physical and emotion attachments between couples. And you know what else? She admits to being wimpy, naïve, and pathetic and doesn't act like these attributes make her more appealing or cute. She's down to earth and damn funny (as in "Haha" your life sucks funny). BUT THEN, some things are just too over the top in the book and not that humorous. Now that I think about it . . . Rosie can't be
that
sheltered. She did go to college, after all, and it's not like she's twelve. Some of her reactions are stupid and unbelievable. So yes, I contradicted myself.
Like many of us, when something is too good to be true, Rosie waits for something to go wrong.
And wowwww, did things take a wrong turn wherever she went.
A Virgin Romance Novelist
is scandalous.
Laugh-out-loud funny.
Eye-widening.
Mouth-gaping.
Cringe-worthy.
Gagging.
Not for the weak hearted.
And not for cat lovers. The author poked too much fun at cats and cat ladies to the point where it wasn't even funny anymore. I confess I didn't laugh throughout the book because some shit got old quick.
Note to self: I won't be reading this book twice.
The book will make you uncomfortable and make sure nobody is reading over your shoulder unless you want to humiliate yourself.
Taboo much? The little "terms" and "encounters" in here had me flustered and kicking in the comforts of my warm bed. I think I can live in this book for a while, as long as I'm an outsider and not Rosie.
"I'm not living in my books; they're just my friends." Any serious reader would know what I'm talking about.
Interested in this book?
What are you waiting for?
ARC provided in exchange for an honest review!
Rating