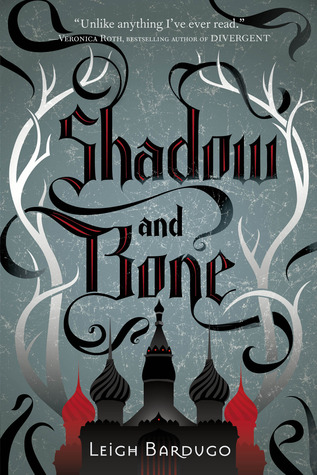 Surrounded by enemies, the once-great nation of Ravka has been torn in two by the Shadow Fold, a swath of near impenetrable darkness crawling with monsters who feast on human flesh. Now its fate may rest on the shoulders of one lonely refugee.

Alina Starkov has never been good at anything. But when her regiment is attacked on the Fold and her best friend is brutally injured, Alina reveals a dormant power that saves his life—a power that could be the key to setting her war-ravaged country free. Wrenched from everything she knows, Alina is whisked away to the royal court to be trained as a member of the Grisha, the magical elite led by the mysterious Darkling.

Yet nothing in this lavish world is what it seems. With darkness looming and an entire kingdom depending on her untamed power, Alina will have to confront the secrets of the Grisha . . . and the secrets of her heart.

Shadow and Bone is the first installment in Leigh Bardugo's Grisha Trilogy.
Shadow and Bone

(The Grisha #1) by Leigh Bardugo

Published June 5th 2012 by Henry Holt and Co. (BYR)

Genre: Fantasy

Rating: 2 Stars

Reviewed on April 23, 2015

This review can also be founds on

Goodreads

.
My Review
3 Stars? 2 Stars? I'll decide later.

Today was supposed to be my off-review day . . . but obviously, I don't always get what I want so here I am.

I didn't have the highest expectations for Shadow and Bone and it's probably why I'm not poking at and questioning its popularity. If my expectations vs reality had played out like Throne of Glass, then Shadow and Bone and I would have a huge problem.

Anyways, I'll keep this review short. If you want a review with more depth, I suggest you look at the popular GR reviews. They're fantastic, really.

The Plot: Plain girl becomes a special snowflake after she discovers she has powers. There is a power struggle in the kingdom. Okay. Generic.

The Protagonist: She's tolerable. It's the highest compliment I can pay her. She's your typical YA hero and spends the half book mooning over her crush and childhood friend. Can't blame her. I would too if Mal was the closest person I had to real family. What makes her almost less than tolerable is how plain she finds herself. I DON'T CARE about your obsession with beauty. God damn it, woman!

The Love Interests: Love triangle? No comment.

The Villain: He reminds me of another villain/story and I can't place it.

Conclusion: The only thing to stand out about Shadow and Bone is that it takes place in Russia. That's truly it. If the fantasy world hadn't taken place in Russia, I would easily forget about the book. With this said, I will be continuing the series. I just won't be wasting any money on it.
My Rating