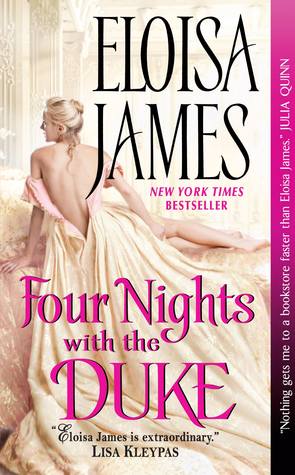 As a young girl, Emilia Gwendolyn Carrington told the annoying future Duke of Pindar that she would marry any man in the world before him—so years later she is horrified to realize that she has nowhere else to turn.

Evander Septimus Brody has his own reasons for agreeing to Mia's audacious proposal, but there's one thing he won't give his inconvenient wife: himself.

Instead, he offers Mia a devil's bargain...he will spend four nights a year with her. Four nights, and nothing more. And those only when she begs for them.

Which Mia will never do.

Now Vander faces the most crucial challenge of his life: he must seduce his own wife in order to win her heart—and no matter what it takes, this is the one battle he can't afford to lose.
Four Nights with the Duke by Eloisa James
Published March 31st 2015 by Avon
Genre: Historical Romance
Rating: 3 Stars
Reviewed on April 7, 2015
My Review
To those who are familiar with my taste in historical romance, you may know I'm not a big fan of Eloisa James. Never have been. May never will. I don't dislike her, but I don't like her either. I still don't have a reason to like her. Her writing doesn't have the "awe factor" to woo me and oftentimes her characters turn me off more than humanely possible. Eloisa comes up with these splendid synopses to lure me then once I'm snatched up by her book, I realize it's already too late when I end up getting beat down by Disappointment. (Yes, the capitalization in intended.)

Disappointment is my constant companion with every Eloisa James novel I pick up. It's always around the corner waiting for me to notice no matter how hard I try to ignore it. However, Disappointment doesn't sneak up on me or slowly sink into my skin uninvited anymore. I regret to say its presence is now familiar and comfortable to be around.

What are my problems with this book (and most of Eloisa's books for that matter)?
1) Lackluster attempt to do justice to an exciting plot. The plot of Four Nights with the Duke sounded like something special but is, in fact, tiring and dull to follow.

2) Characters are as flat as bosoms which obviously don't belong to Mia. *rolls eyes because Mia's overly large breasts are mentioned at least a hundred times*
I don't connect with anyone.

Emilia has no personality. She is characterized by a small abundance of self-worth and that's about it. Even though I'm aware of how realistic Mia's low self-esteem is (A female is allow to have low self-esteem, you know? She doesn't have to love every inch of her body.), I don't find it attractive in a heroine who regularly has to remind herself how big, lumpy, and unattractive she is. Am I supposed to take pity on her or something? It's pathetic and I expected her to be a strong-headed woman. Not this unimpressive, whimpering little girl. From what I understand, she's 28, the same age as our hero.

Vander is tantrum-throwing fool with a potty mouth. Enough said.

3) The mind numbing drama that compels me to put down the book on several occasions. Towards the end of Four Nights with the Duke, the drama escalates to ridiculous and I was laughing like an insane person. Even the serious moments are amusing.




When the characters fight, their arguments are repetitive to a fault. They go round and round in circles and it leaves me to conclude Eloisa is better off writing something interesting instead of repeating spoken and inner dialogues. I'm not wasting my time and money for this.




Suddenly, these characters' necks look good to throttle.

4) Insta-lust.


He was still hard as a rock and had been since he loomed over her in the chair. "If I want a whore, I pay for her," he said, thrusting forward with his hips in a rough motion that she could not mistake.


Is the heroine supposed to feel flattered? Is this how all women should act when we unintentionally turn on the opposite sex? At one point in the book, the hero is still turned on when the heroine is sobbing.




#sobbingforallhumanity

I find Eloisa's books lacking in romance. Her characters' possessive love for one another is unconvincing. It isn't love. It isn't romantic. It's lust and lust alone. And it's not even steamy good. It's bleh.

5) No sense of humor. It's not a rule to be funny, but it wouldn't hurt to try.

Yet no matter how ardently Jafeer courted her, Mia adamantly refused to ride a horse that size.

I stand corrected. The only sentence to make me laugh out loud.

6) Happily Ever After? More like Okayyyyy Ever After? It's a last feeble effort for dramatic danger, but fails miserably to pose a threat. The ending for Four Nights with the Duke is a bit silly and sweet too and I like it.

The Book Saviors: Charlie, Jafeer, the subtle shout outs to HR authors Julia Quinn and Lisa Kleypas.
Favorite Quote:
"They needed to believe in the fairytale that she no longer believed in herself."
Conclusion: The book cover is better than the book contents. #sorrynotsorry. I LOVE the cover. It's one of my favorites of 2015.
My Rating