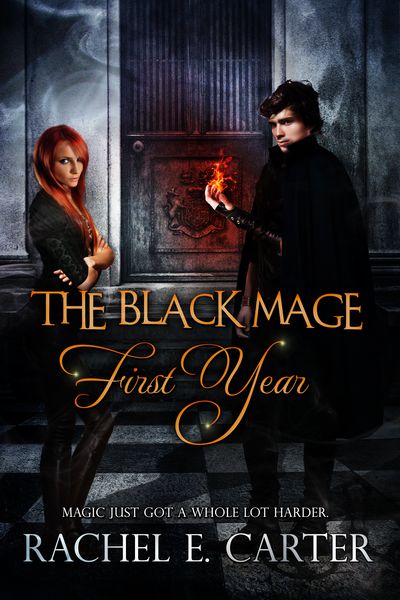 Before the age of seventeen, the young men and women of Jerar are given a choice-follow tradition, or pursue a trial year in one of the realm's three war schools to study as a soldier, knight or mage...
For 15-year-old Ryiah, the choice has always been easy. Become a warrior and leave the boring confines of her lowborn life behind. Set to enroll in the School of Knighthood on the eve of her next birthday, plans suddenly shift when her twin brother discovers powers. Hoping that hers will soon follow, she enrolls with Alex at the Academy instead -the realm's most notorious war school for those with magic.
Yet when she arrives, Ry finds herself competing against friend and foe for one of the exalted apprenticeships. Every "first-year" is given a trial year to prove their worth -and no amount of hard work and drive will guarantee them a spot. It seems like everyone is rooting for her to fail -and first and foremost among them Prince Darren, the school prodigy who has done nothing but make life miserable since she arrived.
When an accidental encounter leads Ryiah and Darren to an unlikely friendship, she is convinced nothing good will come of it. But the lines become blurred when she begins to improve -and soon she is a key competitor for the faction of Combat... Still, nothing is ever as it seems -and when the world comes crashing down around her, Ry is forced to place faith in the one thing she can believe in -herself. Will it be enough?
First Year (The Black Mage #1) by Rachel E. Carter
Published August 11th 2014 by Astraea Press
Genre: Fantasy
Rating: 4 Stars
Reviewed on April 13, 2015
This review can also be founds on Goodreads.
My Review
I know what you're thinking. "Cee, why did it take you so long to finally read this?" I have no answer.
The central characters are well-written and I was able to get a grasp on their personalities. I found myself liking everyone, even the school instructors and Ryiah's nemeses.
I'm not about to do a characterization on everyone, but I will discuss the protagonist.
Ryiah is one hell of a tough cookie. I LOVE how bold, determined, fierce, tough, and strong headed she is. Even her recklessness and desperation is a contribution to how much I love her. She never gives up even when the odds are against her.
If she goes down, she's going to go down swinging.
I genuinely mean this: Ryiah is a breath of fresh air and she is a total kick ass girl for me.
I don't remember ever wanting to support a character so much and never once was I against her judgment or lost faith in her. Her endurance and stubbornness will take her far and I'll be with her every step of the way.
Darren, that poor boy, redeemed himself by believing in Ryiah when she was losing faith in herself. Still, you're an asshole, good sir. I'm waiting for that love triangle in book 2.
And can we talk about Alexander's confrontation with Darren and his crew? Alex gained my 100% respect after this.
"You spineless predator. All you do is prey on the weak! You think you are the next Black Mage. All I see is someone too insecure to let anyone with potential try! You think you can bully everyone into leaving. Well, guess what, my sister Ryiah is staying and so will anyone else you victimize, if I have anything to do with it!"
I dread the harsh training the students went through in this book. What a torture. Amazing job, Rachael!
Ryiah's trial and battle at the end was extremely intense and fantastically well-written. I was cheering her on all the way. The action is awesome.
In the paperback copy I purchased, there are a few omitted words here and there but no big deal. I love the feel of the book and I kept rubbing the cover xP
Thank you, Rachael, for writing this series.
My Rating