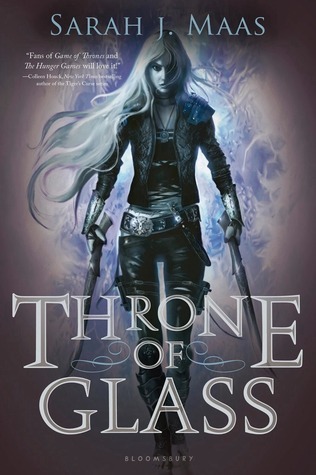 Throne of Glass (Throne of Glass #1)
by
Sarah J. Maas
Published May 7th 2013 by Bloomsbury USA Childrens (first published August 2nd 2012)
Genre: Fantasy
Rating: 2 Stars
Reviewed on March 14, 2015
Book Blurb
In a land without magic, where the king rules with an iron hand, an assassin is summoned to the castle. She comes not to kill the king, but to win her freedom. If she defeats twenty-three killers, thieves, and warriors in a competition, she is released from prison to serve as the king's champion. Her name is Celaena Sardothien.

The Crown Prince will provoke her. The Captain of the Guard will protect her. But something evil dwells in the castle of glass--and it's there to kill. When her competitors start dying one by one, Celaena's fight for freedom becomes a fight for survival, and a desperate quest to root out the evil before it destroys her world.
Review
There is one gif that accurately describes how I feel about
Throne of Glass
:
The book was off to an incredible start.
Incredible!
Then the lies came. I was promised an epic fantasy read, but the real thing is far from the truth. I cursed and yawned exceedingly and it'll be too easy to blame it on my lack of sleep but the book is entirely at fault. Talk about a misleading cover and synopsis. . . . The hype can shove it where the sun doesn't shine because I swear there is more talk about pretty dresses and romance than there is about combat action in the book.
The Lies:
Celaena is an intelligent and ruthless assassin, who's kicking ass left and right, and citizens can't stop singing their praises and fears. She's a
special
character. Obviously. She was picked specifically by the Crown Prince to compete against 23 other assassins, killers, thieves, and warriors for her freedom. Sounds awesome, right?
My Truth:
Wrong. Supposedly, Celaena Sardothien
was
the most feared assassin in all of Erilea. You could have fooled me. Celaena is your run-of-the-mill assassin. Well, she's not an assassin or killer in this book because nobody dies by her hand. She's boring and has as much brains as you and me. Her past is the past and now she's a sappy, softhearted teenage girl swept up in an infatuation and involved in a competition where
the tests are unimaginative and unimportant.
Seriously. The tests aren't exciting, and to make matters worse, the author blows through the trials and writes out only one or two for readers to experience. Major letdown.
Celaena in one gif:
The Lies:
Calaena is fighting to stay alive and win the competition while on a quest to "root out the evil."
My Truth:
Sure, if you want to call it that. Celaena doesn't want to die, so what? Nobody wants to die. Celaena wants her freedom, so what? She chose to remain in a figurative prison. Celaena is selected for a secret quest by a ghost, so what?
WHY SHOULD I CARE?
Celaena's life has already been at stake for the last ten years and will remain endangered, so why should I care now? Why should I root for her? That's my issue— I don't
feel
the danger and the author does a poor job of constructing a world that is worth my time and creating actual risks the protagonist face. The only hazard that exists is the unknown entity killing off the competitors, but even
that
is tedious because even with the graphic details and the mention of the investigation surrounding the deaths, there's really not much "investigating" going on. More than that: the mystery is no mystery at all. It's predictable and becomes less interesting and perilous as it drags on.
The Lies:
The main setting is the palace.
My Truth:
Celaena's bedroom is the main setting. I'm not joking. I read more about how Celaena spent her time in her chambers than anywhere else. Most of the times, she's in either Dorian's or Chaol's company.
The Lies:
The love triangle is exceptional. The romance is beautiful. You can't even complain.
My Truth:
Is it? I'm afraid not. I still hate love triangles, even if both guys are noble.
The love triangle between Celaena, Dorian, and Chaol made me want to pull my hair out.
Do you want to know what my real reaction was though? I literally banged my head against the desk throughout the last quarter of the book. Even the love triangle in
The Kiss of Deception
didn't annoy me this much. Also, I find it really hard to believe that Celaena can easily put aside her inner wrath and quickly get along with Dorian, whose father was responsible for her parents'(I think) as well as thousands of other people's deaths. I wouldn't even be able to look at Dorian. Not to mention that they've only met— what?— three times before she got personal with him and told him about Sam. It didn't take a lot of time for Celaena to pour out details from her pasts to either Dorian or Chaol. You would think she would be disciplined and guarded because of her assassin training, but I repeat: she's sappy. What happened to her wrath? Her hatred? If there's one thing I know about hatred, it's that it consumes you . . . and what, it's been consuming Celaena for the past ten years? So why is she suddenly Friendly Person of the Year to her enemy and fucking eating and drinking their food and shit? What happened to the injustice? Did all the bad things in the world fucking
poof
into the air while she was playing dress up? Gawd, I hate the romance. There's no spark. There's no chemistry. There's no life in it. It's a forced concept of forbidden romance meant to fool readers into "swooning" and thinking Dorian and Chaol are characters with a lot of depth and feelings. FAIL. None of these characters have depth and they are set up to make Celaena look good. Plus, I want back the bloodthirsty wench she was in the beginning.
The Lies
: You'll equally love and get along with Dorian and Chaol and want them both for Celaena.
My Truth
: I like Chaol and I think I want him all for myself. It's not that I favor Chaol over Dorian because I want him to be with Celaena— because I don't. To put it plainly, Dorian fails to win me over
and
to convince me that his attraction to Celaena is more than physical. Even with their personal conversations, they don't have that personal connection, if you get my drift. With Chaol, I find his distrust of Celaena agreeable because it's
realistic.
Anyways, these boys only serve as props to show how perfectly lovable Celaena can be. As if I care. This book shits too much romantic nonsense.
The Lies:
Nudge.
My Truth
: Nudge. Nudge. Nudge. Nudge. Nudge again. Then another nudge. If someone nudges again, I'm cutting you.
The Lies:
You're going to love this book!
Conclusion:
I expected an action-packed story with a kickass protagonist (being an assassin and literally kicking ass doesn't make you kickass); however,
Throne of Glass
lacks just about everything. Character depth, vivid world building, a compelling mystery, a small dash of romance (this is more like a large splat of romance), etc.
To address my previous statement "being an assassin and literally kicking ass doesn't make you kickass": Celaena rose from a nobody to a somebody and I like how the author is sending a message that Celaena is as good and even better than the men and shouldn't be estimated because she's a woman and likes to wear pretty dresses and eat sweets. That's all great, really. But beating the men down and knowing how to fight and kill doesn't make her a badass. Knowing how to wield weapons, dance, play piano, and
fucking eat
doesn't make Celaena extraordinary either and I get that she needs all these skill sets, but the author tries way too hard to make her character impressive.
I'm throwing
Throne of Glass
in limbo with
Cinder
, another book I probably rated too generously. I had extremely high expectations for
Throne of Glass
and all I did for the past few months was rave on about how much I wanted to read it and now it turns out to be one of the most disappointing reads ever.
According to the glowing reviews for its sequel,
Crown of Midnight
is a huge improvement in the world building and character development. Also, the love triangle gets better, so I'll consider giving the sequel a chance. I merely dread the idea that I might want my money back just like how I want my money back for this poor excuse of fantasy.
Note: I couldn't help but draw similarities to
Poison Study
and
Grave Mercy
, so if you enjoyed those books, you might like
Throne of Glass
too.
Update: I need everyone to read this
review
by Helen because she goes into a lot more details and it deserves a hallelujah for explaining my thoughts and feelings for
Throne of Glass
.
Rating