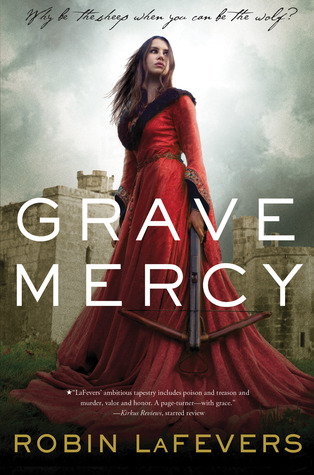 Grave Mercy (His Fair Assassin #1)
by
Robin LaFevers
Published March 28th 2013 by HMH Books for Young Readers
Genre: Fantasy, Historical Fiction, Historical Romance
Rating: 3.5 Stars
Reviewed on March 8, 2015
Book Blurb
Seventeen-year-old Ismae escapes from the brutality of an arranged marriage into the sanctuary of the convent of St. Mortain, where the sisters still serve the gods of old. Here she learns that the god of Death Himself has blessed her with dangerous gifts—and a violent destiny. If she chooses to stay at the convent, she will be trained as an assassin and serve as a handmaiden to Death. To claim her new life, she must destroy the lives of others.

Ismae's most important assignment takes her straight into the high court of Brittany—where she finds herself woefully under prepared—not only for the deadly games of intrigue and treason, but for the impossible choices she must make. For how can she deliver Death's vengeance upon a target who, against her will, has stolen her heart?
Review
I love historical reads! Political reads, on the other hand . . . Ehhh, not so much, especially when I don't understand a twinge of it. However, the political intrigue in
Grave Mercy
kept me on the edge of my seat— or bed, I should say if we want to be realistic about it— and I didn't have
that much
of a difficult time keeping up with the politics, tactics, and strategies. Plus the idea of assassin nuns and Death is kickass. The unexpected romance is a bonus. It's a kind of love that slowly sneaks up on the protagonist and her love interest. There's no insta-love here.
The beginning is the best part! I was bored here and there, but I enjoy and like the story at the very least. It's
good
. It's funny, exciting, dark, yet it lags behind the rank of full-on awesome and lovable for me. Also, I like the characters, but that's where all feelings end. Reading
Grave Mercy
, I wasn't attached to the characters and they didn't leave a lasting impression on me.
Grave Mercy
isn't my cup of tea and I'm contemplating on whether I want to read the next book in the series or not, but before I end this short review, I will mention I like the setting (the Middle Ages) and the writing. Because of this, there's a chance I might pick up
Dark Triumph
. I have a feeling that I'll love Sybella and that her journey will be more of an emotional one and less of a political and spiritual one like Ismae's.
Some of my favorite quotes:
"I find myself wishing for a great throbbing bruise instead. That I would know how to deal with better than this."
"I can dodge a blow or block a knife. I am impervious to poison and know a dozen ways to escape a chokehold or garrote wire. But kindness? I do not know how to defend against that."
"Why be the sheep when you can be the wolf?"
"I comfort myself with the knowledge that if Duval ever feels smothered by me, it will be because I am holding a pillow over his face."
"Perhaps that is because you mistake death for justice, and they are not the same thing at all."
I give
Grave Mercy
a 3.5 star rating for now. I'm going to sleep on it and decide in the morning if I should bump the rating up or down.
Rating