I love lists too.
This week's list consist of my favorite heroines from TV shows, movies, and books.
Not in any order of importance and favoritism.
1.

Sorcha from Daughter of the Forest
Sorcha is the greatest heroine I've ever had the pleasure of reading about and I can't say enough about how much I respect and love her. She endures many painful losses and tragedies, and I've shed tears for her through every single one. She doesn't need to know how to fight or be "the chosen one" in order to be a badass heroine. Her silence, courage, endurance, loyalty, and love already proves how much strength she has.
Daughter of the Forest
is a loosely based on "The Six Swans." Our protagonist is part of a destiny to save her homeland from the Britons and free her family from an enchantment. Her six older brothers are turned into swans by their stepmother and Sorcha barely escapes with her life. Their father, Lord Colum of Sevenwaters, remains bewitched by the sorceress. Sacrificing her childhood and innocence, Sorcha is terrified and alone, and lives in solitary struggle as she is bound to silence until her task is completed. Earlier on, she learned from the fair folk that if she spins six shirts from starwort, a needle-like plant that disfigures one's hands, she can free her brothers. Years passed when a Briton rescues her from drowning and drags her away from the only home she ever knew.
2.

Liadan from Son of the Shadows
Another heroine written by Juliet Marillier, the author of
Daughter of the Forest.
Liadan is the dutiful and well-mannered daughter of Sorcha and is almost like her in every way. She possesses her mother's small figure, courage, and loyalty, and shares the destiny to save her homeland from dark forces. What differentiates them is Liadan is more defiant and bolder than Sorcha. Sorcha will stand up
for
her family, but Liadan is more courageous and learns to stand up
to
her family. Like her mother, she will do anything to protect her siblings and it is proven when she helps her older sister escape an abusive marriage. In the aftermath, Liadan faces the consequences of lying to her whole clan and hurting her family and weakening their security with the selfless choices she continues to make. She also shares a forbidden romance with a man, who can't have her. While Sorcha's soul and heart belongs to the forest and she can never let it go, Liadan willingly leaves her home and embarks on a new life with her love.
3.

Veronica from Veronica Mars
Badassery doesn't get any better than Veronica Mars. Holy lord, her reputation might have downgraded after her best friend's death, but she rises up and kicks her enemies' asses. She uses fear and intimidation to show people she's serious. Her witty quips and wisecracks get me every time.
Here are some of my favorite lines:
"Life's a bitch until you die."
"I have that exact same platitude-a-day calender at home. It's how I know beauty comes from within."
"I hope we're still friends after I taser you."
"You've nearly warmed this cold, cold heart of mine."
"It's all fun and games until one of you gets my foot up your ass."
"Do either of you have any experience of being a horse's ass?"
Jackson Douglas

: I hear you do detective stuff for people.
Veronica

: I do favors for friends.
Jackson Douglas

: I can pay.
Veronica

: Sit down, friend.
"Tragedy blows through your life like a tornado, uprooting everything. Creating chaos. You wait for the dust to settle and then you choose. You can live in the wreckage and pretend it's still the mansion you remember. Or you can crawl from the rubble and slowly rebuild."
4.

Katniss Everdeen from The Hunger Games
Need I explain?
5.

Yelena from Poison Study
I love how she proves people wrong at every turn. She is tested (and literally experimented on) and passes every test (with the exception of the past experiments). Test of poison, loyalty, magical powers.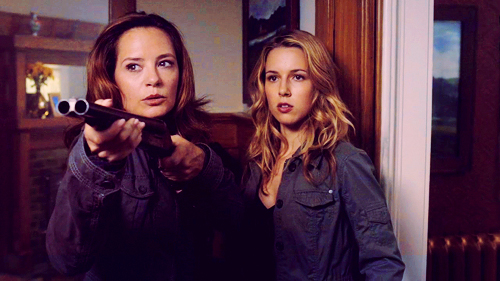 6. & 7.

Jo and Ellen from Supernatural
The mother and daughter team kicks the Winchester brothers' asses when we first meet them. They are two of my most missed characters from the TV show.
8.

Olive from Easy A
This character and Emma Stone is the best <3
9.

Lia from The Kiss of Deception
10.

Cecile from Stolen Songbird
Honorable Mentions
Maeve from Flame of Sevenwaters
Caitrin from Heart's Blood
Senneth from Mystic and Rider
Penryn from Angelfall
Jax from Broken Skies