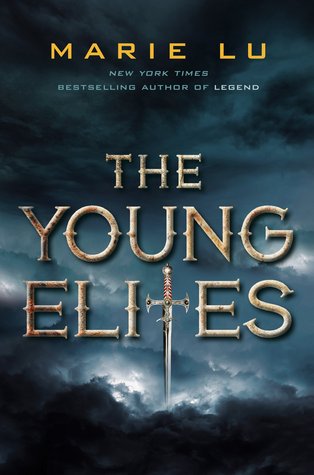 The Young Elites by Marie Lu
Published October 7, 2014 by G.P. Putnam's Sons Books for Young Readers
Genre: Fantasy
Rating: 3 Stars
Reviewed on February 20, 2015
Book Blurb
I am tired of being used, hurt, and cast aside.

Adelina Amouteru is a survivor of the blood fever. A decade ago, the deadly illness swept through her nation. Most of the infected perished, while many of the children who survived were left with strange markings. Adelina's black hair turned silver, her lashes went pale, and now she has only a jagged scar where her left eye once was. Her cruel father believes she is a malfetto, an abomination, ruining their family's good name and standing in the way of their fortune. But some of the fever's survivors are rumored to possess more than just scars—they are believed to have mysterious and powerful gifts, and though their identities remain secret, they have come to be called the Young Elites.

Teren Santoro works for the king. As Leader of the Inquisition Axis, it is his job to seek out the Young Elites, to destroy them before they destroy the nation. He believes the Young Elites to be dangerous and vengeful, but it's Teren who may possess the darkest secret of all.

Enzo Valenciano is a member of the Dagger Society. This secret sect of Young Elites seeks out others like them before the Inquisition Axis can. But when the Daggers find Adelina, they discover someone with powers like they've never seen.

Adelina wants to believe Enzo is on her side, and that Teren is the true enemy. But the lives of these three will collide in unexpected ways, as each fights a very different and personal battle. But of one thing they are all certain: Adelina has abilities that shouldn't belong in this world. A vengeful blackness in her heart. And a desire to destroy all who dare to cross her.

It is my turn to use. My turn to hurt.
Review
**ARC provided by Netgalley in exchange for an honest review**


Heroine: 2 stars
Hero: 2 stars
Romance: 2 stars
Plot: 3 Stars
Enjoyment: 1 star
Overall Rating: 2 stars

I have not read the first three books of The Duke's Men , so forgive me if my view is limited.

Past: Dominick Manton and Jane Vernon, soon-to-be Jane Barlow and Countess of Blakeborough, are old lovers. In fact, 12 years ago, they were engaged until Dom tricked Jane into jilting him. Dom couldn't overcome the obstacles in their future andThe Young Elites is incredibly intense from beginning to end. While I don't love it and am not entirely head over heads crazy about the fantasy setting, I do like it. It is my first book by Marie Lu and I finished it in literally three hours! Don't let my rating fool you. This is a good book and nowhere close to decent. Marie Lu is skillful and talented in her storytelling, but my good vibes were a bit dampened because of my regret of allowing myself to assume I would praise this book until my last dying breath. Note to self: Don't listen to people's voices of expectations because it will exceedingly affect yours and nobody wants to experience a "letdown" in contrary to the "hype."


Adelina is bad and I mean bad. She is unlike any heroine I've ever read about. As a matter of fact, she isn't a heroine. She is a villain in the making.

What does it take to be a villain?

Villain: n. a character whose evil actions or motives are important to the plot; a cruelly malicious person who is involved in or devoted to wickedness or crime

In all honesty, identifying a villain is due greatly to one's perspective. A character can be a hero in their own world, but a villain in another. No matter what motives and back-stories are woven to support say character, he or she is a villain in someone's story.

Take Teren Soranto, for a first-rate example. He believes he is doing the world and the gods good by setting out to destroy the Young Elites. To him, their creation is a mistake, an abomination. He will strike them all down while striking fear in the hearts of those who dare oppose him.

Adelina possesses a different, yet similar, nature. Whereas Teren is about violence on violence and adopts a brutal behavior to achieve his cause, Adelina actually takes pleasure in the violence, especially igniting the chaos it brings. Her darkness is her means of survival in a cruel world. It is her. For too long, she has been suppressed, so when her true nature finally lashes out, it excites her and she grudgingly embraces it.

Even if Adelina's dark powers constitute evil and she thrives in fear and turmoil, does that make her a bad person? Are you only a bad person if you act on your thoughts? Or are you a bad person for having those thoughts in the first place?

The line between good and evil is thin, indeed. Everybody has their own agendas and motivations. Everybody has secrets. Everybody can be selfish and self-interested when they choose to be. All it takes is a push.

All it took for Adelina was a childhood of horror and neglect, and betrayal after betrayal. Her father despised her. The world is disgusted with her kind. The Dagger Society only adopted her because of the powers she yields. Ultimately, she decides once and for all that she is done being drained of her usefulness then discarded when she no longer has meaning.

Talk about villains. More like sensible people who are done with everyone fucking with them and don't care about the popular outlook of "doing what's right."

If I was a book character, I would not be the "bigger person." Like Adelina, I would commit some betrayals of my own. I would give people what they deserve. I would turn my back on the world like it has turn its back on me. As someone who values family and hate shitty parents, just know I took pleasure in Adelina's father's death. Death is justice. Why play by the cards of morality when no one will deal justice for you?

There is not a single character in The Young Elites who can be trusted. Not Adelina. Not Enzo (who I did not grieve for). Not Teren (who I would probably join ranks with just for the fun and terror of evil). Not Raffaele (who I fancy and am eager to see more of). Not even Adelina's sister Violetta. Given the circumstances, the two sisters can trust each other, seeing as they've protected and been there for one another their whole lives. They won't likely betray each other. Maybe. It's only natural for Adelina to be jealous that Violetta was favored, and yet, not even their father's favoritism can put an everlasting drift between them.

There are clever twists and turns throughout the book and only one caught me off guard. I won't speak of it, but it has to do Adelina and Violleta.

Truly, The Young Elites is about payback, survival, and the discovery of one self.

Will you live long enough to see what becomes of you and the imbalance of good and evil you take part in?
Rating
3 Stars!