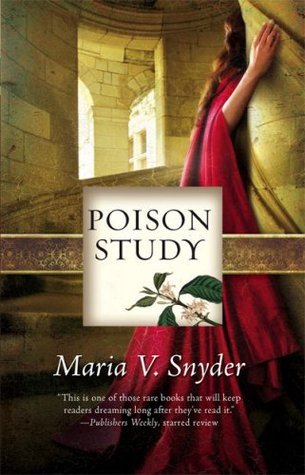 Poison Study (Study #1) by Maria V. Synder
Published October 1, 2005 by Mira
Genre: Fantasy
Rating: 4.5 Stars
Reviewed on February 22, 2015
Book Blurb
Choose: A quick death…Or slow poison...

About to be executed for murder, Yelena is offered an extraordinary reprieve. She'll eat the best meals, have rooms in the palace—and risk assassination by anyone trying to kill the Commander of Ixia.

And so Yelena chooses to become a food taster. But the chief of security, leaving nothing to chance, deliberately feeds her Butterfly's Dust—and only by appearing for her daily antidote will she delay an agonizing death from the poison.

As Yelena tries to escape her new dilemma, disasters keep mounting. Rebels plot to seize Ixia and Yelena develops magical powers she can't control. Her life is threatened again and choices must be made. But this time the outcomes aren't so clear...
Review
**ARC provided by Netgalley in exchange for an honest review**


Heroine: 2 stars
Hero: 2 stars
Romance: 2 stars
Plot: 3 Stars
Enjoyment: 1 star
Overall Rating: 2 stars

I have not read the first three books of The Duke's Men , so forgive me if my view is limited.

Past: Dominick Manton and Jane Vernon, soon-to-be Jane Barlow and Countess of Blakeborough, are old lovers. In fact, 12 years ago, they were engaged until Dom tricked Jane into jilting him. Dom couldn't overcome the obstacles in their future andIt seems I'm on a roll with books about cruelty being overlooked and justice not dealt with. "Cruel is a matter of perspective," the character Captain Jack Sparrow never fails to remind me. You want to talk about cruel? How about this?

Poison Study introduces us to Yelena, a woman who is rotting away in prison for a murder committed in self-defense. It's been almost a year when she is finally released. Instead of heading straight for execution, she is handed over to Valek, the chief of security to Commander of Ixia. Thrown at the disposal of two choices— die by the noose or become a food taster—she chooses the latter.

"In my mind I tried to reconnect my spirit to my body. Why did I think my soul would return if my body was still not mine?"

As if being haunted and having her conscience blackened by the blood of the man she killed wasn't enough, Yelena is deliberately poisoned and the only antidote belongs to Valek. There is no chance of escape, especially at the expenses of true freedom and death.

"I glanced out with a hunger that no food could satisfy."

In a literal sense, Yelena is a dead person walking. Her life is threatened by enemies, unknown and known. No matter what she does and doesn't do, there's one unwavering outcome . . . she will end up dead. A fate that has always been intended for her.

As a new presence at the castle, Yelena is seen as a bloodthirsty criminal by those around her. Only a small handful of servants and fighters are friendly to her and among them are the lovable "power twins" Ari and Janco, the sassy cook Rand, and stony Valek.

Can I please just take a moment to fangirl? No, no, I take that back. Can someone conjure a Valek, an Aria, and Janco for me, please? Honestly, I fell harder for Ari and Janco than Valek, but I love them all the same anyways. I love Yelena too and I'll sum these characters up in a few words: loyal, determined, trustworthy, compassionate, unpredictable.

At first, Valek and Yelena are wary to trust each other. Valek, for one, is an assassin and will eliminate her without hesitation. Yelena's motives for murder are still unclear to Valek, and even though he doesn't push her to reveal them, he obviously wants to know. Eventually, they "warm up" to each other and even confides in one another.

I was so close to not writing a review for Poison Study because I absolutely did not know what to say. My original review consisted of eight words: "I am speechless and have nothing to say." It wasn't the awe-inspiring type of speechless, but the I-don't-know-what-my-feelings-are speechless. Now that I've sorted my thoughts, I will end my review with some points:

• I expected this story to be emotional, and while it is tragic, it didn't pull at my heartstrings.
• Fast-paced and written in a simple style. It doesn't drag on with unnecessary details and repetition.
• The narration is rather "off." Not that the protagonist's voice is annoying; it's merely clumsy at times.
• The romance doesn't overpower the story. The love between Yelena and Valek slowly creeps up on them and the readers . . . it's not poisonous.
• It took an effort for me to understand Ixia's society and politics— history and present wise. It's interesting.
• The magic aspect of this story didn't enthrall me. Not close to a "wow" factor at all.
• Taken as a whole, Poison Study is still a good fantasy read.
Rating
4.5 Stars!