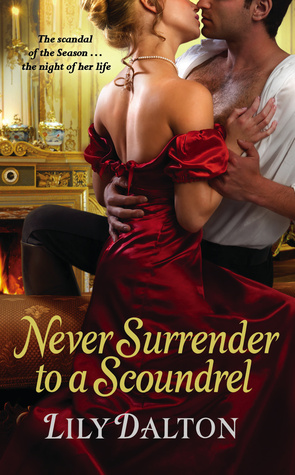 Never Surrender to a Scoundrel by Lily Dalton
Published January 27, 2015 by Forever
Genre: Historical Romance
Reviewed on February 13
, 2015
Book Blurb
A Reckless Desire...

Lady Clarissa Bevington is in trouble. A reckless indiscretion has left her with two choices: ruin her family with the scandal of the Season, or marry Mr. Kincraig, the notorious scoundrel mistaken as her lover. Desperate and disgraced, Clarissa vows to love and cherish a veritable stranger, a man whose eyes smolder with danger—and undeniable desire...

An Unexpected Arrangement

As an agent for the Crown, Lord Donovan Blackmer has spent the last two years guarding Clarissa's grandfather from an unknown assassin while disguised as the rakehell Kincraig. His mission may now be over, but his duty has just begun. Salvaging his beautiful, impetuous wife's virtue will cost him his fortune and his position as an officer—but it might save him from the ghosts that haunt his own past. When their marriage "in name only" leads to exquisite seduction, Donovan must risk the only thing he has left to lose . . . his heart.
Review
I received this book for a Read for Review.

At One's Beast is a fantasy read about sacrifice, betrayal, the thin line between losing yourself to good or evil, family, friendship, and love.

Zosimos was tormented by his inner and outer self. Consumed by revenge and bitterness for the village who betrayed him out of fear for the unknown and out of guilt for what they did to him, Zos was only tamed when Alcina, a brave and compassionate girl, reappeared in his life ten years later.



I'll tr**ARC via Netgalley given to me for an honest review**

From the beginning, my opinion of Clarissa wasn't high. She was merely another spoiled rich brat who thought she fell in love and was naïve enough to get herself impregnated by a man who wanted to keep their "courtship" a secret. Really? This never ends well and I've never found naivety appealing in a heroine. Regardless of my cynicism and my failure to connect to her, she's a fairly pleasant character.

Now Dominick, on the other hand, knew about Clarissa's affair and happened to be at the wrong place at the wrong time. As a result, he was mistaken for Clarissa's lover. He promised her grandfather he marry her and raise her child as his own to save the family from ruin, but Donavan himself was degraded in her family's eyes and he was discharged from his duties as an agent of the crown because of the situation Clarissa had put them both in. All of this fueled feelings of anger, betrayal, worthlessness, and bitterness in Dominick. Gradually, he set them aside and learned to accept his fate, and it was nice to see the changes and growth in both Dominick and Clarissa as well as their slow-building love.

I was much more interested in Dominick's life— past and present, and if I didn't care about Clarissa's unborn baby' self-being, she wouldn't even cease to exist in my reading. Donova's past, his problems with his family, and the nature surrounding his first wife's death compelled me to read on.

Overall, Never Surrender to a Scoundrel is an enjoyable read and the plot is new for me. I give it somewhere between three and four stars. It's a good book, but a one-time read for me, due to a lack of an exciting ending, which was resolved too quickly, and the fact that I didn't care for the characters' welfare.
Rating
3.5 Stars!