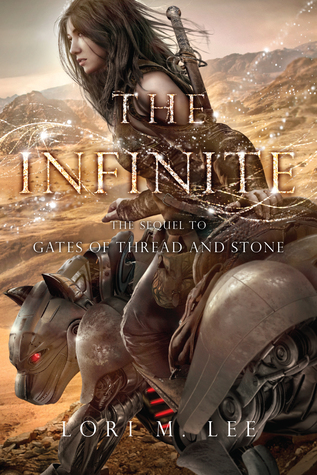 The Infinite (Gates of Thread and Stone #2) by Lori M. Lee
Published March 10, 2015 by Skyscape
Genre: Fantasy
Rating: 3.5 Stars
Reviewed on February 27, 2015
Book Blurb
The walls of Ninurta keep its citizens safe.

Kai always believed the only danger to the city came from within. Now, with a rebel force threatening the fragile government, the walls have become more of a prison than ever.

To make matters worse, as Avan explores his new identity as an Infinite, Kai struggles to remind him what it means to be human. And she fears her brother, Reev, is involved with the rebels. With the two people she cares about most on opposite sides of a brewing war, Kai will do whatever it takes to bring peace. But she's lost her power to manipulate the threads of time, and she learns that a civil war might be the beginning of something far worse that will crumble not only Ninurta's walls but also the entire city.

In this thrilling sequel to Gates of Thread and Stone, Kai must decide how much of her humanity she's willing to lose to protect the only family she's ever known.
Review
**ARC provided by Netgalley in exchange for an honest review**


Heroine: 2 stars
Hero: 2 stars
Romance: 2 stars
Plot: 3 Stars
Enjoyment: 1 star
Overall Rating: 2 stars

I have not read the first three books of The Duke's Men , so forgive me if my view is limited.

Past: Dominick Manton and Jane Vernon, soon-to-be Jane Barlow and Countess of Blakeborough, are old lovers. In fact, 12 years ago, they were engaged until Dom tricked Jane into jilting him. Dom couldn't overcome the obstacles in their future andARC received via Netgalley for an honest review. Thank you to the publisher and author!

I was much more intrigued by The Infinite than I was with the first book, but all the same, my rating stays at 3.5 stars.

What I liked:
• The manipulation and doubt Kai faces. (Although I wasn't fooled and saw the plots twists coming from miles away.)
• Kai loses her powers.
• Kai has become more kickass.
• Kai is still loyal to her friends and family.
• Avan doesn't get his memories back. It would have been too soon and I wouldn't have cared. (I don't like the new Avan, fyi.)
• Mason. Like I said, I have a crush on him.


What I didn't like:
• Kai is lovesick and never fails to remind us on <i>every other page.</i>
• If my boyfriend, a friend, or just simply someone I care about was in Avan's place, I would be acting the same as Kai. However, Kai's desperation drove her to be reckless and plain annoying. I'm glad she's not giving up on him, but still, I didn't pick up this book to read about pathetic characters.
• The attempt at a love triangle. I already don't care about the romance in this book, so another love interest isn't going to make me like this book any better.
• The betrayal at the end is resolved quickly.


More bullets will be add later.

I'm not sure I'll be reading the third book. The Gates of Thread and Stone series isn't keeping its hold on me for long.
Rating