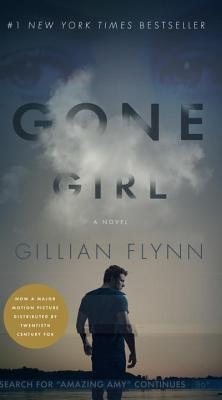 Gone Girl by Gillian Flynn
Published May 15, 2012 by Broadway Books
Genre: Mystery, Thriller
Rating: 3 Stars
Reviewed on February 25, 2015
Book Blurb
On a warm summer morning in North Carthage, Missouri, it is Nick and Amy Dunne's fifth wedding anniversary. Presents are being wrapped and reservations are being made when Nick's clever and beautiful wife disappears from their rented McMansion on the Mississippi River. Husband-of-the-Year Nick isn't doing himself any favors with cringe-worthy daydreams about the slope and shape of his wife's head, but passages from Amy's diary reveal the alpha-girl perfectionist could have put anyone dangerously on edge. Under mounting pressure from the police and the media--as well as Amy's fiercely doting parents--the town golden boy parades an endless series of lies, deceits, and inappropriate behavior. Nick is oddly evasive, and he's definitely bitter--but is he really a killer?
As the cops close in, every couple in town is soon wondering how well they know the one that they love. With his twin sister, Margo, at his side, Nick stands by his innocence. Trouble is, if Nick didn't do it, where is that beautiful wife? And what was in that silvery gift box hidden in the back of her bedroom closet?
Review
I've read Gone Girl some months ago and it's about time I write a review for it.

Now before I start, let me just get it out there that I will be reviewing both the movie and book. There are no spoilers and I'm going to be very vague and uninteresting. Beware of mild swearing.

As someone who rarely has patience for mystery books and prefers to watch TV crime shows and mystery/thriller movies, Gone Girl is one of the few mystery books I've actually finished.

One thing I like about this book is it explores how marriage is viewed in a glorious light when there are dark sides to it. The reality: Marriage is about compromise. Nick and Amy are two people pretending to be someone they're not and have not even been their worst around each other. They avoid confrontations because Amy wants to be the "cool girl," not the nagging wife. As Amy says, Nick takes and takes and takes and is a lazy ass. It's a natural instinct to choose sides, but by the time I was halfway through this book, I wished every character would be wiped off the face of the earth. Fuck sides!

I dived into Gone Girl not knowing what to expect. It was disturbing and frustrating. What's worse: Watching the movie forced me to put real faces to these fictional characters. (I liked that Jane girl from Pride and Prejudice 2005 version and now I'll never look at her the same. God, I hate her voice.)

Does it matter what I read and watch first? No, it's not something to boast about, but apparently it does matter because I made sure to read the book before I was tempted to ruin things for myself by watching the movie. Now, if you're like my sister and was confused as fuck by the film, it's well-deserved and expected. The book undeniably helps you see situations from Nick's and Amy's pov because it switches back and forth. Warning: They are both not to be trusted and don't even try to understand the workings of their minds because they're "dingo ate my baby" crazy and stupid. They're humans. It's natural. We're all horrible human beings and a little messed up in the head.

The second half is better than the first half of the book. It takes a long time for the story to pick up and become interesting. I ended up putting the book down more than I intended to. When it hit the momentous plot twist (and there are several mindfucking plot twists), that was when I read nonstop until I got to the end.
For the movie, 30 minutes in and shit is already going down for Nick. As a nonreader, you have no absolutely clue what's going on and what he was thinking that led him to do this and that or go to a certain place. I had to pause the movie several times to explain the unfolding events to my sister. There are details in the book that can't be thoroughly incorporated into the film. Examples: the extent of how much Nick hates his wife, the way people judge him for being "emotionless," his thoughts and motives throughout the treasure hunt, the panic he feels as secrets are revealed. (Should we blame Ben Affleck or not?)

Did I like the movie better? Or the book?
Honestly, I don't know. I have no desire to read the book twice or watch the movie again. (Unless somebody wants me to sit with them and hold their hands while I explain what's happening.)

End Note: I recommend Gone Girl to those who enjoy mystery and suspense. Read the book first though. The movie will get you nowhere.
Rating
3 Crazy Stars!