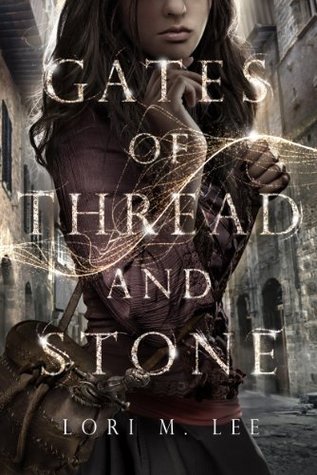 Gates of Thread and Stone (Gates of Thread and Stone #1) by Lori M. Lee
Published August 5, 2014 by Skyscape
Genre: Fantasy
Rating: 3.5 Stars
Reviewed on February 24, 2015
Book Blurb
In the Labyrinth, we had a saying: keep silent, keep still, keep safe.

In a city of walls and secrets, where only one man is supposed to possess magic, seventeen-year-old Kai struggles to keep hidden her own secret—she can manipulate the threads of time. When Kai was eight, she was found by Reev on the riverbank, and her "brother" has taken care of her ever since. Kai doesn't know where her ability comes from—or where she came from. All that matters is that she and Reev stay together, and maybe one day move out of the freight container they call home, away from the metal walls of the Labyrinth. Kai's only friend is Avan, the shopkeeper's son with the scandalous reputation that both frightens and intrigues her.

Then Reev disappears. When keeping silent and safe means losing him forever, Kai vows to do whatever it takes to find him. She will leave the only home she's ever known and risk getting caught up in a revolution centuries in the making. But to save Reev, Kai must unravel the threads of her past and face shocking truths about her brother, her friendship with Avan, and her unique power.
Review
**ARC provided by Netgalley in exchange for an honest review**


Heroine: 2 stars
Hero: 2 stars
Romance: 2 stars
Plot: 3 Stars
Enjoyment: 1 star
Overall Rating: 2 stars

I have not read the first three books of The Duke's Men , so forgive me if my view is limited.

Past: Dominick Manton and Jane Vernon, soon-to-be Jane Barlow and Countess of Blakeborough, are old lovers. In fact, 12 years ago, they were engaged until Dom tricked Jane into jilting him. Dom couldn't overcome the obstacles in their future and**ARC received via Netgalley for an honest review. Thank you to the publisher and author!**

I was unsure on how to rate and review Gates of Thread and Stone, so I broke down my thoughts into sections then concluded on a rating based off the average.


Plot: 4 stars
The synopsis definitely pulled me in! And talk about the beginning: "Death lived in a glass tower at the center of the White Court. . . ." Wow, that whole paragraph captivated my attention. An opening hasn't enticed me like this in a long time.
The mythology that ties in to Gates of Thread and Stone deserves a plus star from me.
Even though the story unfolded in a predictable manner and dimmed my interest sometimes, it remained intriguing enough to continue.


Setting: 4 stars
I love the names assigned to distinctive parts of the city: Labyrinth, Purgatory, White Court, etc. It's evident these places were well-thought out and described by the author.
I'm going to use up this section to talk about the Outlands, inhabited by these reptile creatures called "gargoyles." I remembered they were experimented on and mixed with other breeds. Then the experiment went wrong, and as a result, they were released while some were killed. This blurry fact is still bothering me. It was halfheartedly explained then dropped because I assumed the author thought readers wouldn't thoroughly question the gargoyles' existence. I don't understand why the Kahl (the city's ruler) killed only those "he could" and "unleashed" the rest into the Outlands. Why not kill all of them if they're dangerous? Why cause more problems for his sentinels by not exterminating the creatures in the first place? I understand the author is trying to make the Outlands appear dangerous, but the Kahl can't be that dense in the head.


Magic and adventure: 3 stars
The magic is interesting and so is the history of the Infinite, Rebirth, etc.
Some information got complicated to the point where my head was spinning. Such a cliché phrase to use, but it's completely true. I still don't fully grasp the concept of the magic, history, characters, and pretty much everything else. The second installment will definitely reveal more!


Characters: 3 stars
Likeable, but not lovable. However, the imperative factor is readers must want to root for them and I did just that.

Kai
Right from the beginning, I decided to like Kai. How did she win me over, you ask? She leaves amusing notes in her pockets for street thieves when they pickpocket her. That was some sassy stuff right there and I like sass in my characters. I also admire her devotion to her brother and it's something I can relate to. I'm truly surprised that there are people who find her fierce love and protectiveness overwhelming.
Regardless of her human qualities, the downside to her character development is I can't ground out who she is. She's only who she is through the people around her and the characters are too convenient for her.

Avan
Kai's friend and love interest. He seems genuine, loyal, and sweet, despite his "past reputation," which hasn't been confirmed to be true or false. But why is he helping her? What is he hiding? What does he know? About her? About himself? These were some of the questions that kept me reading.

Reev
I want to learn more about him and his past. He's worthy of my respect for taking in a child when he was not much older than a child himself.

Mason
I have a thing for Mason, okay? And I want to know more about him being a sentinel. Reev, included.

Death, Famine, and War (I believe Istar is War?)
The Horsemen are mentioned :DDD

Grene
I know she isn't an important, but this is my commentary for pure entertainment. Although we only met Grene for a short time, she reminded me of Daisy Wick from the TV show Bones. Not good.


Romance: 4 stars
I know, I know, I know. This isn't a romance book, but it might as well should be. Not that I didn't enjoy the romance. Nonetheless, it must contribute to my rating since the book is heavy on the love and tension between Kai and Avan. I confess that I half-expected there to be a love triangle with Mason.


Climax: 3 stars
The ending was a tad awkward and too hopeful for me.
You heard correctly. "Hopeful."
(view spoiler)[ As I mentioned before, the story was predictable. Avan's resurrection wasn't a shocker and his reaction to Kai in the end felt forced and out of place. Other than that, my heart did break when Avan died and that's when I realized I did care about him. (hide spoiler)]


Enjoyment: 3.5 stars
I finished it in one day. That's got to have significance.


24.5/7=3.5
Overall: 3.5 stars
While Gates of Thread and Stone is a good fantasy debut that I enjoyed and the heroine is (thank god!) a respectable protagonist, it fails to "woo" me. I plan to finish the series, anyway, and look forward to what lies ahead for all the characters in the next book.
Rating