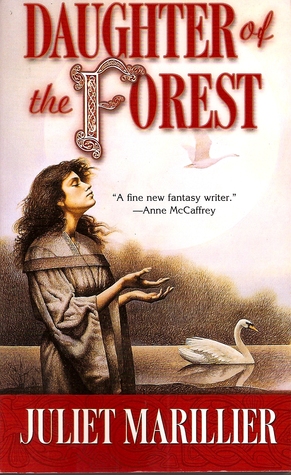 Daughter of the Forest by Juliet Marillier
Published February 18th 2002 by Tor Books
Genre: Fantasy, Adult
Reviewed on January 9, 2014
Add me on
Goodreads
!
Book Blurb
Lovely Sorcha is the seventh child and only daughter of Lord Colum of Sevenwaters. Bereft of a mother, she is comforted by her six brothers who love and protect her. Sorcha is the light in their lives, they are determined that she know only contentment.

But Sorcha's joy is shattered when her father is bewitched by his new wife, an evil enchantress who binds her brothers with a terrible spell, a spell which only Sorcha can lift-by staying silent. If she speaks before she completes the quest set to her by the Fair Folk and their queen, the Lady of the Forest, she will lose her brothers forever.

When Sorcha is kidnapped by the enemies of Sevenwaters and taken to a foreign land, she is torn between the desire to save her beloved brothers, and a love that comes only once. Sorcha despairs at ever being able to complete her task, but the magic of the Fair Folk knows no boundaries, and love is the strongest magic of them all...

Review
This is the kind of book that makes me love fantasy and mythology. As a matter of fact, this is the book that made me start reading in the first place. Growing up, I didn't care much about reading and it wasn't until I discovered Daughter of the Forest that I appreciated writing and writers.
It was my freshman year in high school and I had to do a book report (funny how throughout most of my education, this was the first book report I've ever been assigned to). I grudgingly searched the school library, picked out Daughter of the Forest, and planned to terrorize the book through my report. Little did I know that Daughter of the Forest would captivated my heart and mind; and needless to say, ever since the amazing characters, setting, folktale, and plot stole me away from an alternative life without books, I have never been more content and happy than to sit down and read. I can't imagine a life without books now.
Thank you Juliet Marillier for writing this amazing book. For your Sevenwaters trilogy. For all your books. For your knowledge. For your dedication. Daughter of the Forest will always have a special place in my heart. I don't know how many times I've reread it or how many more times I will continue rereading it.
Rating